Yes the ominous clouds of the evening before did break overhead like a gentle mist. Climbing to the statue of David (ok the replica) in the Michelangelo Plaza the vistas were a throwback to centuries past. The city as memory stored it some thirty years ago. I remember walking the banks of the river as the technicians were preparing the fireworks. That night with our children we watched the banks of the river glow as the pyro-technics hit the sky. Today a gentle rain.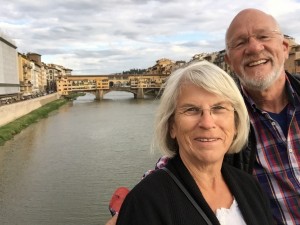 Behind us the Ponte de Vecchio crosses the Arno river and buries the tourist hustle in store fronts and under pedlars blankets. For years the housing on the bridge has been an empty reminder of another era. Yet the projecting and protruding structure have this link to the works of Hunderwasser some 600 years later.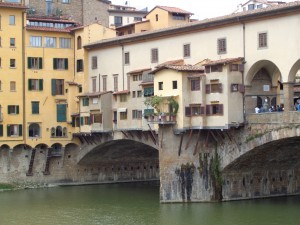 That reminds me a few blogs ago we were onto the Last Supper. In Florence Margaret and I took a few minutes away from the morning drizzle to look at an exhibit of art that inspired and reignited the sacred. The works of Van Gogh, Chagall and Fontana were promoted. Inside the 1920 painting by Stanley Spencer of the Last Supper caught the crowds attention. Painted in a barn, with exaggerated folds in the drappery, feet emerging from the cubist or futurist folds all a statement about the renewal of sacred art. A visit reminiscent of the works of Donatello and even Giotto.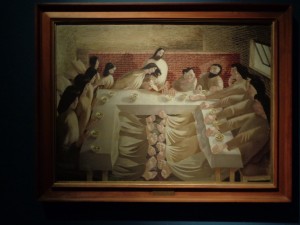 Prayer time and all that kiss stuff can get very confusing. In 1914 Felice Casorati, an artist with a pasion for Klimt and a love of seccesionist decorative work created this painting of a woman at prayer. By itself simple enough, but when exhibited with prayer images by Munch and their contemoraries, this is an antidote to the poster art. This is an insiders look into the most private of practices. The drizzle continued. We walked arm-in-arm using umbrellas when the winds permitted and then as evening came the sun returned to set.