The creation of the golden bycycle from a single strand of wire foreshadows the hope that emerges from a monument of the broken and lost– two wheelers scattered on the streets and in the canals of Amsterdam.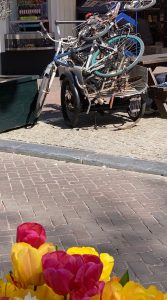 The monument of mangled wheels and frames is ready for recycling to the scrap yard.  In the foreground tulip flowers emerge from winter foreshadowing a spring resurrection.  Down a shady lane worshippers walk toward a gardened courtyard and the English Reformed Church.  Easter celebrations sound from duelling pipe organs.  Choirs punctuate the soundscape with the Chorus from Handels' Messiah.  The rafters are dusted for another year and the Easter Bunny has supplanted the great Spring mystery.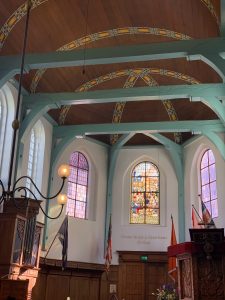 The city opens doors to perspectives of every kind, yet it's history is chequered with bits and bites if reformed tradition.