In one of the many recaptured Dutch polders there is emerging a growing-exhibit called Floriade.  The acres of land created ex nhilo, almost God-like exposed a canvas of opportunity.  The images hint at possibility, the scale hints at responsibility and the unfinished parts focus on commitment.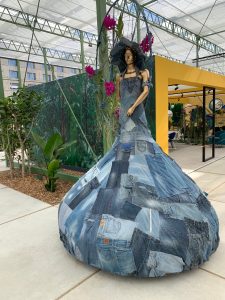 The recycled denim figure captures images of endurance, sustainability, recycling and maternal nurture.  Moving from a perspective of nihilistic failure to hope requires patient vision in the smallest details. Wandering through Floriade there were glimpses of hope and mountains of impossibility.  Time separating the perspectives.  Hope nurturing effort.  The signs hint at the merging of emerging technologies with traditional problems.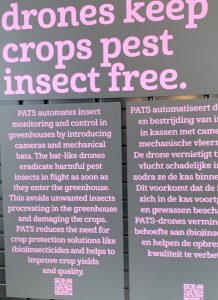 The introduction of drones into insect controls no longer speaks of extermination but coexistence.  In growing plants, in surviving nations, in obeying nature and in sublimating greed there is an emerging notion of coexistence.  The notions of power over or control will choke survival.  The future may very well be in our hands!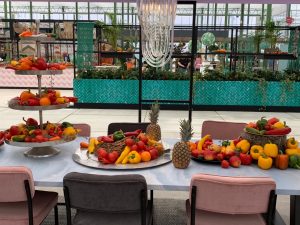 The augmentation of meat based meals with the colours of peppers hints at changes to come.  Recapturing eating from fast foods (sic) may be one way to re-create a family meal.  Colouring the plate may be one way to introduce hope to the pallet of food and art!