On the Malecon in Puerto Vallarta there is a large scale sculpture of Jacob's Ladder.  The sculpted work scaled up from the art of Sergio Bustamante is more than tourist attraction.  This work of interactive art invites participation.  The spectator is invited to engage in the story.  Engage in the connection between heaven and earth.  To touch the feet of the first born, seeking blessing.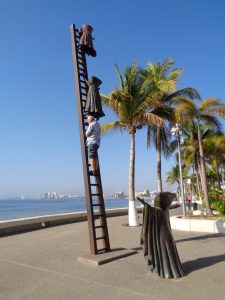 The story would simply be archival allegory if there was not some shared oral tradition.  Some shared glimpse at our human experience.  A young Muslim woman and her husband climbed the ladder laughing as he was trying to catch her heal.  I captured the photograph for them and in their thanks they expressed the wonder of a shared history.  They too could laugh at sibling rivalry and the pettiness of birthrights.  The evening shadows permitted more extroverted bravery.  A gentle nudge.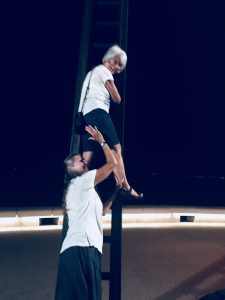 The angel at the base of the statue stands with open armed blessing for every travelling pilgrim.  No matter where you come from, no matter what your history, no matter what you believe — the ladder of your dreams is a Lent-Mark, a place of hope. Across the square, the cathedral.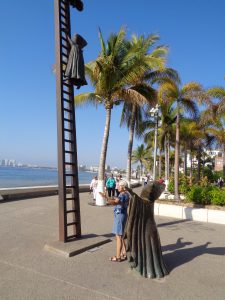 The tears captured by rungs of the ladder are carried by angels from the eyes of care to the pillows of the world.  The laughter of the Muslim couple rings in my ears.