It is true, after a certain age (don't say it) night-life becomes a stretch of imagination and dreams.  A stretch of ideas.  The Bay of Banderas is set as a stage for fire-works and pirate ships. The historical VW, many still visible on the streets here, is possibly more handicapped than the window decal would indicate about the occupant.  The juxtaposition of the old with the new electric children's cars is a genuine case of past becoming present.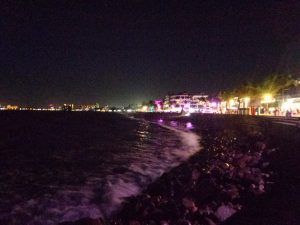 The mini cars available to pre-school children are eyed with envy by the chronologically challenged youngsters.  These electric cars were a kid magnet.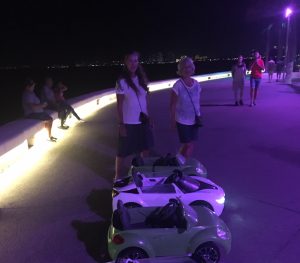 The "A" or "eh" in PV is topped Gail's head.  Somehow the girl wants to come out and play!!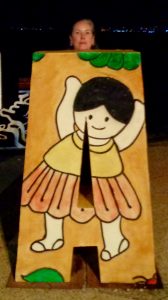 The evening started slow enough at the taco stand. The careful carving of meat and pineapple produced a fiesta of tacos that needed a long walk to integrate.  From taco stand to Jacob's Ladder, this evening like so many others, became a festival of visual delights.  A celebration of rest.