Tethered across the major streets in Puerto Vallarta are colourful versions of traditional prayer flags.  Lines of communication that bridge the buildings in this community to each other and beyond.  We just left Sunday Mass at the cathedral and were re-inspired by the classic reading of the lesson of Ezra sharing the scrolls with the people.  Hope.  Recommitment to connection and open lines of communication.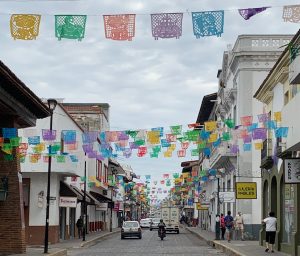 Around town lines created by brushes are interrupted by umbrellas used for shade.  The umbrella is rarely used for lines of rain but rather for shade from the driving sun.  The kaleidoscope of colour dances in the murals as a brilliant juxtaposition to the white horizon of buildings.  The artistic lines have been carved on buildings as announcement of hope and recommitment to the community.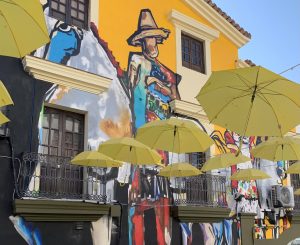 In the shadows a carved statue faces as a reminder of the carved lines painted with natural colours.  A place to study.  Learn hope.  Communicate tradition to build community.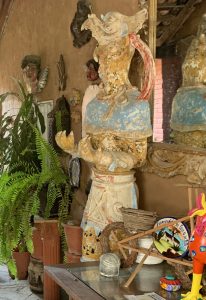 The dancing children are a reminder of the community created by a locus of points.  The stained glass work reflects the hope of the next generation.  The back-lit window pours the light of community over all who gather in the zocalo.  Ezra's reading of the law reported by the prophet Nehemiah features a town square and the traditional "Water Gate."   The origin of story in our history may serve to remind us that our lines of communication connect us to hope and builds community.  Thereafter people can recommit to build a renewed world.