The clouds rend and the rains came!  On the streets of Puerto Vallarta the rains came — those seasonal rains that happen once in three months, according to some locals.  It rained for two hours and the dust, dirt, sand and branches rolled down the roads to the sea.  The washing of the city was accomplished.  Puddles settled at low points and my sandals were clearly not designed for the sudden tropical downpour.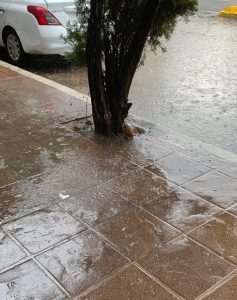 The search for motorized carriage out of the cloud burst was impossible.  It was a water water everywhere moment.  No umbrella.  Shorts. No wipers on glasses.  Looking for a yellow car in an ocean moving uphill became like the final leg of The Greatest Race.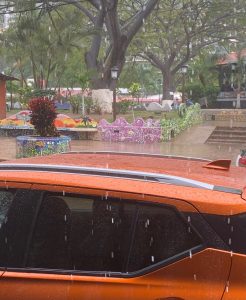 Awareness emerges.  This corner of paradise could not exist without a blend of sun and water.  The rivers, waterways, roadways, ditches all rushed to action with water.  Ultimately returning the water to  the sea.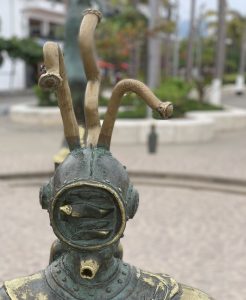 This was not forty days and forty nights of rain.  This was forty minutes.  The diving bell and the story of history carry the message of water.  Water is essential for all life and terrified by all living.  Floods, rains, irrigation and drinking each focus on our relationship with water — we can not live without it, yet it can drown us.  Almost spiritual.