From the monkey to the lemming trail of mythological creatures the roof lines on older palaces are adorned to ward off evil and designate rank and status. The king lives here. The queen serves here. Status and rank marked by myth and monkey. The attention to detail permeates much of Korean culture.
The gift wrapped package below with the miniature rake is a joyful presentation for a gift of fresh produce (or fruit) found in the main floor of the Hyundai department store. Gifts wrapped with care and loving attention to detail. I don't remember what was in the package but the picture of the wrapping says it all.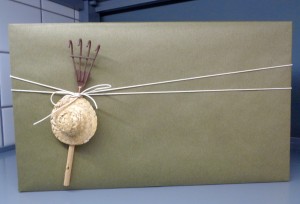 Resizing the pot-sticker is not new. My Canadian mind was down-sized by local versions. Walking through the food fair these pot stickers were the size of pop-tarts and a meal on their own. A blend of tradition and love for food.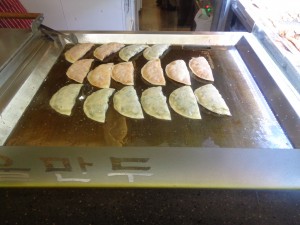 The stone formed gate and house in behind are fragments of tradition left for memory. The spring (think of the weather as Calgary "grey-grass") buds on branches were starting to brighten the bleak. Colour was returning and gardening was till being done in long grow houses. Ginseng thrives in four distinct seasons. The myth of mild winters destroyed by warming huts and and polar parkas.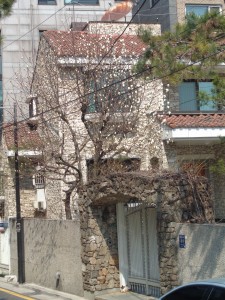 From garden to Kim Chee. On the street a local green grocer delivers the special cabbage for fermenting Kim Chee. Margaret struggles to lift three heads off the ground. The stewardess from an airline can not move the bag. We laugh. Margaret says we are growing larger cabbages at Keystone this year! We will teach some guys what weight lifting is. This truly is a place where tradition dominates. Most households have a separate fridge for Kim Chee. Reputations rise and fall on the quality and flavour. The monkey leads the spirits that guard the house.