A short commute from what we've called home for the past few weeks there is a sacred Hindu temple. Several of the persons I've met live in the town that surrounds the temple at Tanahlot. They claim it's a 45 minute commute by scooter. By car it took nearly two hours. The parking lot is no preview of the sacred. The morning heat reflected from the pavement and then a few steps and we were walking down a tree lined corridor. The ocean visible at the end of the road. We were in the right place. The picture captures the temple inscription and the devout patron retrieves his walking stick from behind the sign. He needed a stick for the journey.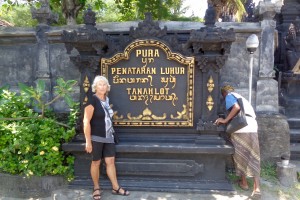 The table in the inner courtyard is set awaiting the offerings for the full moon. The formal ceremonies tomorrow. The bright cloth waving in the ocean breeze. The priests and priestesses fulfilling ceremonial roles.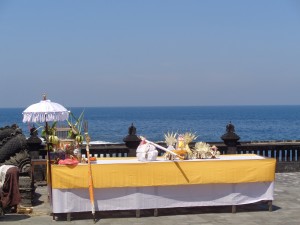 The sacred temple emerges from the tidal waves like a creature from the netherworld. The water carved shapes emerge from centuries of erosion to be augmented into shape by crafts persons. The waves crashing on the shores provide more than a visual metaphor for the cleansing water, this temple integrates cleansing and protection.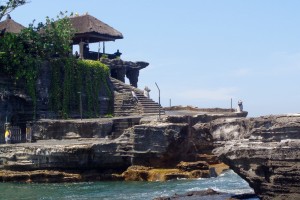 The courtyard of the public area provides seating for eating and greeting. A place out of the sun in the shadows of the imaged deities. Waving with welcome arms is probably not a Hindu stance, but between the figures I want to summon a moment of silence, a slowing down to appreciate the magnitude and detail of the temple.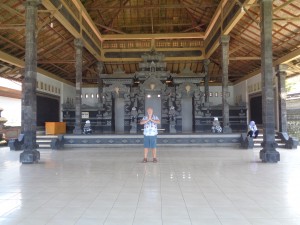 In one of the New Testament Bible stories Jesus throws the money changers and merchants out of the temple courtyard. The gauntlet from the parking lot to the temple was a walkway of trinket pedlars and money takers. Each struggling to survive in a world that honours the sales pitch. The beauty of the temple clouded by their aggressive behaviour. I can't help but wonder what it was like when Jesus turned the tables. Would he turn these tables?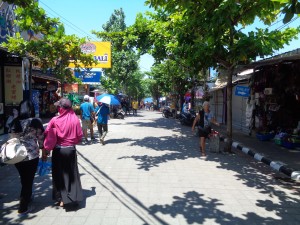 Holy is as holy does. The beauty of artisan labour and the might of creation couple to create a sacred place at the edge of the water. Visiting this temple, more than many of the others, left me humbled. I was privileged to have seen and walked in this sacred place. The full moon tonight will be honoured in traditional Balinese ways. When I see the full moon will I see the lessor light of creation?