The columns, calculated with varying bearing weights for various marble and granite materials, speak of gothic roots without buttresses. Each a visual marvel and a structural feat. The basilica was set out as a monument to the holy family and every family. We paused in pews wrought with carved wood and twisted iron. Above our heads the crucifix, honouring the last meal, the whole meal of bread (the wheat in the crown of thorns) and the grapes crushed, in John Updike's words, by remonstrance.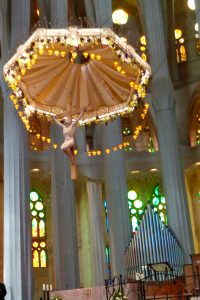 The crucifix is suspended from red marble columns that will support the Christ tower. The tallest tower is scaled to be a few meters short of the nearest mountain because nothing man-made can supersede anything in the creation. The four towers raised to the honour of the gospel writers carry their Catalan names.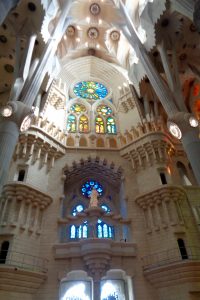 The light and sound in this basilica reach from heaven to earth! The acoustics impeccable. The stained glass captures in varied colours the changing light in the course of the day. From the outside there will be three entrances on completion. (Est 2026) We used the family or "birth entrance which told the story of the nativity or the entrance to earth. The second entrance tells the story of the crucifiction and invites each visitor to share in that redemption.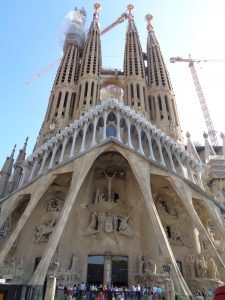 The main (or third) entrance will be completed in a few years and will focus on the glorification. The light from the sun coupled with the light from the plaza will pour glory over all the gathered worshippers. The land once scheduled for this plaza will need to be reacquired from the apartment dwellers. This may put family values in conflict with the holy family. Having seen hundreds of churches world wide I must say that this basilica has a way of bridging doubt with a communal vision of faith. Gaudi lived the last years of his life as a hermitic (attending the church daily to work on the models for the unfinished towers) he was the dreamer who took everyone along and years after his death the community of Barcelona is working to finish his dream, their dream, our dream.