All that blue stuff wrapped around monuments will need to wait.  Sitting across from a Dutch couple (ok he was and she was an American who spoke better Dutch than I did) in a French restaurant talking about family traditions of over-cooked vegetables and careers and children and lives on the road and I was reminded of all the miles we have been blessed to share.  The collection of memories, like photos in an album, coming into the conversation in living colour.  The shared meal created a new association — we laughed at the French grandeur of scale and the Dutch overcooked vegetables and all of us seeking privacy and being seated at a shared table.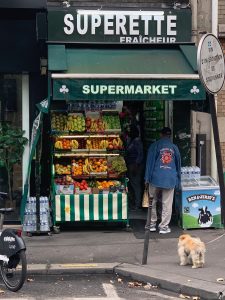 The image of a three metre wide "supermarket" was not lost on us as we walked along the boulevards of Paris.  The broad shouldered wanna be rugby players that snuck into Paris for a few beers  to celebrate or mourn, only created line-ups.  On the menu boards gnomes were pointing to winning combinations.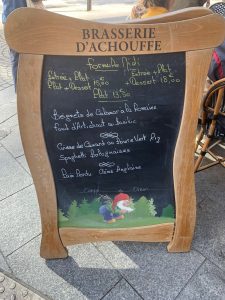 This city of lights and monuments has a twisted sense of humor.  A statue emulating a computer with throttled bandwidth loading files, corners the intersection.  The completely incomplete image like the rugby blue are signs of currency.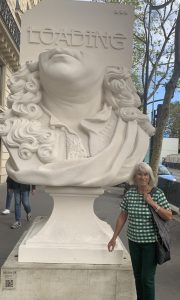 The array of pastries and chocolate laden sweets underlines every break. Walking in the city of memory and future I am reminded of all the times I walked these streets, all the ways I was stretched.  I do not play rugby.  At breakfast an Irish rugby fan noted that the boiled egg was not ready to eat..  The opened egg drained to the floor, a morning scrum. We waited for the next play and went on to view a new exhibit at L'Orangerie.