The classic fire-dance accompanied by a chorus of chanting, singing and finger snapping men was the focus of our trip to the southern tip of Bali. However the peak perched temple at Uluwatu was as sacred and more spectacular. In the third Act of "Kecak Ramayana" the white monkey with magical powers helps Rama deliver the love-ring to Sita. Now as with all ancient tales, this too has variations. The mischievous monkey sits on the fence guarding the way to the temple at Uluwatu and the road to carnal happiness.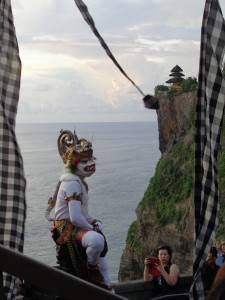 The fire dancer and the male chorus merge into a tidal wave of bodies praising and praying with Pentecostal fervour and dancing like disco dervishes. At the end of the dance the Rama is in struggle reunited with Sita. The romanticized tale told at sunset for visitors has embedded spectacle and burning moments of cleansing fire. The wrestling with demons and the ensuing conquest leave sparks of remembrance.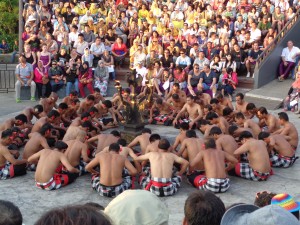 At the edge of the island the setting sun carved solar scars into pale skin. A memory that is more than story. The stylized shapes echoing the praying chorus with bent arches and the raised concrete arms holding a goddess as a gift for the sky.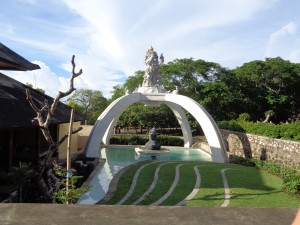 The temple stands as a monument to a people of faith… A pillar of shadow at sunset. It would be easy to discount all this as some primitively evolved belief system. The truth is that faith intersects with life here, as anywhere else on earth, demonstrating levels of acceptance, lives of gratitude and moments of devotion. At sunrise each day I have watched the adulation of sacrifice, the moment of devotion, the acts of gratitude, the prayer and the sweet incense all acts of faith on a journey lived for the other.