The straight lines that control the parachute used by parasailers gets twisted with every landing.  The colours speak of a vibrancy that would make the straightest person blush bright red.  And there, the monkey, gets set for his next flight on your back.  God-like he controls the parachute by lengthening and shortening the straight lines.  The negotiation for a fair rate for the brief ride is a twisted piece of business.  The wind!  The bay! The price of fuel! The cost is for a trip not time!  It too is a negotiation.  A skilled twist of phrase to end up with a straight price.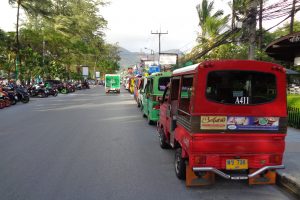 In coloured rows the Tuk Tuk Taxis hug the curb.  A rainbow of colour marking opportunity, each headed in the wrong direction to take advantage of the one-way grid. A straight line to a wallet.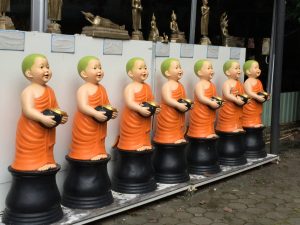 The taxis like the line-up of monks with alms bowls are a visual reminder that even a holy-taking of money from tourists, like all taxes, is a sanctioned business.  A way of life to support a struggling economy.  No matter how you gather the money the twisted lines will never feel straight and the straight lines will still feel like a tax.  In the middle of an American election the lines between straight and twisted have been so blurred that only lemmings know how to follow.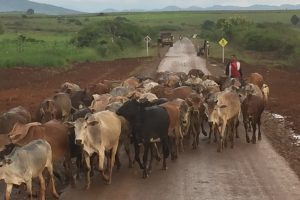 On the road a herd of cattle tries crossing the straight line of driven ruts.  A farmer gently untangling the herd to make way for ox-carts and coach carts. The road a straight line that is twisted by the incursion of cattle going home.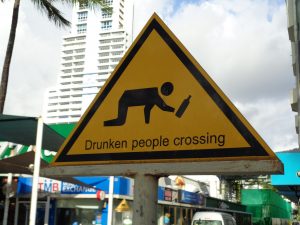 On the street, a road sign, a marker of a twisted sense of holiday.  A signpost indicating that a drunken stupor is the way to cope.  Walking a straight line while impaired has repeatedly led to criminal charges.  The high road might just be the parasail ride over the entire twisted goings on down below.  A god's-eye perspective where the straight and narrow are neither straight nor narrow, but rather a twisted way of living and enjoying life!