In the kitchen that Diego and Kahlo shared when they were speaking, the colours were bright, the pots contrasting and the table was the invitation.  Often it would be easier to settle for fast food but the conversation, the table-talk would be muted by crushing wrappers and device time.  In the world of bridge, whenever a player shares some card holding secret with a partner across the table, the foul is called table-talk.  In these images I want to share the imagined table-talk that turned the image into a game changer.  For Kahlo the conversations about love, life and living overpowered pain, polio and failed surgery.  She loved life and staged food to enjoy it!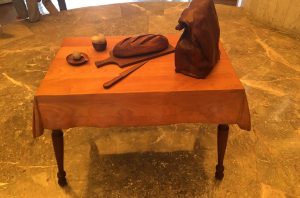 The wooden table (yes carved from solid blocks of wood) created by Naomi Siegmann in 1979 captures both the communal nature of food and the brown bag necessity.  Food nurtures body and soul. The conversation across the table as it was found in the Museum of Contemprary Art in Mexico City may have been the Eucharistic invitation but Siegmann doesn't subscribe to cheap solutions.  This invitation is to everyone who is hungry.  Lunch bag dinner, "Potatoe eaters", or simply you and me.  Welcome!
Diego's painting captures the hungry.  The empty faces.  The conversation might have bridged socio-economic standing.  Trotsky and his visit may have been mentioned as a solution to the wealth of the church in the face of the poor.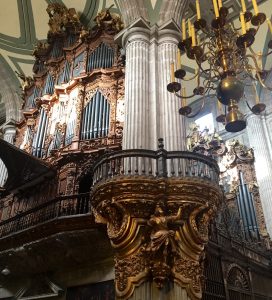 The music of pipe organs bridged the gaps between heaven and earth.  Notes that reverberate with the invitation to come to a table that is set for all.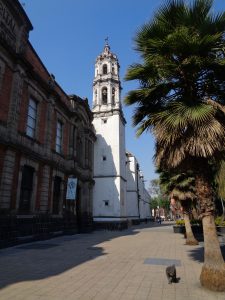 The silhouette of the steeple points to a standing invitation.  The table is set, but the table-talk is going foul.  Bridging the gap between heaven and earth has taken a pharasaical twist. The table-talk says welcome.  The table is set.  Food is served. Bring your lunch bag or your colourful life and join in the conversation.