With back turned toward the viewer, the monk silently protests the political. Visiting the artists and their work in Yangon we are enlightened by Sue Shue, who from my cultural western perspective was, as best as I could find a label, following in the ideological lead of Dutch thinkers like Kuitert. Sue maintained that "everything is politics, but politics is not how we live."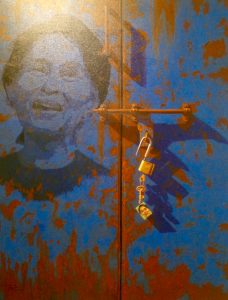 A silence speaks of more than loss in this painting of pro-democracy group leader, Aung San Suu Kyi by Zay Zay Htut.  This painting is not one of shackles but one wherein she holds the key to freedom and the future. Visiting her ailing mother in 1988 she is over time drawn into  giving direction to an emerging liberation movement.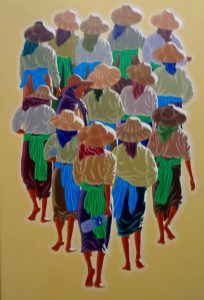 The whimsical water bottle held defiantly by the last attendee at the march captures a movement.  These people, in a work by Min Wae Aung are rendered  as workers where the parade of disagreement has been enlarged from monks to ordinary folk.  Moving forward without looking back.  These people are not going to be frozen by time and desire.  These are not Lot's wives.
Walking into the script of a painter like Po Main I was drawn with Sue's guiding suggestions to the stupa, it's history of leading to a peace maker's kingdom and the juxtaposition created by the blood-red trail of tears created by the parade of normally maroon brown monks. At the entrance to the stupa the guarding lions protect and direct.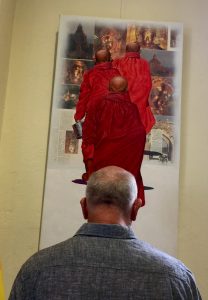 I took the time to line up with the monks in a painting by Min Min Nyuen. I wondered for a moment,  "had western art lost its political power?"  The awareness slowly settled, much of artistic energy in first world is focused on creating consuming messages. Those messages were the politics of home.  In the failing heritage buildings and along whitewashed wallways I was led by the eyes of a new generation to see struggle.  To see that the four headed governance of Myanmar was in the early stages of a quadruple by-pass.  Everything political was changing but that transformation would take a cultural revolution to change everything else.  Maybe art will continue to focus forward.