There are lines from my childhood that ring with value that increases as I age. That hymn that we sang in church from the old red psalter on Thanksgiving Day reverberates with phrases of gratitude. The opening line alluded to all the soul-surprises and disaster-averting marvellous deeds that God did. Now I grew up enough of a Calvinist that I know about every hair on my head and all that wonderful stuff, but I also learned that God is a lot more playful and God is a lot more real. The red hat in the pew is more than a moment of laughter that Margaret and I shared. The red hat is a story of redemption like everything else in the background! Along the way I get to laugh, share story and learn that every good gift, every revitalized perspective, every reconnection is a gift of recovery from self. A gift of freedom. The gratitude list gets long and humbling with time. There will be no roast turkey. But as you carve big-bird we will, by the grace of God, have landed in Turkey. There is some fear. The migrant crisis continues to kill people.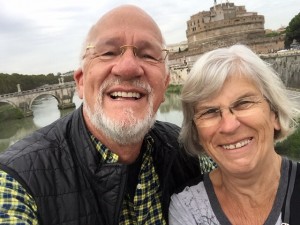 After a few years of recovery I learned to laugh with my best friend, learned to love and be loved, learned to explore and sit still, learned to weed gardens and cut flowers, learned to read and listen. Today we savoured an organ concert that featured a Bach Toccata and Fugue. The shared experience of listening to one of the great organs in Rome reverberate the marble of the 117th cathederal we visited made it all magical. Walking back in rain which no umbrella could deflect we danced through puddles and dodged scooters. Being grateful is being. It's a bit like having your own oversized couch to crash on. You know that no matter what it will enfold you till you are ok. This juxtaposition of crisis and gift is a mystery I am grateful for.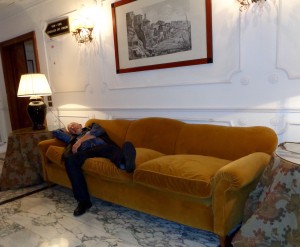 We could plant that Last Door hat on the most dour of statues and make the granite smile with us. Even Neptune could respond with laughter and a roasting fork. Early in recovery someone suggested that service to others might be a good idea. Never knew that that included Neptune. Neptune didn't look homeless, but he could sure use a laugh as could ten people that gathered around.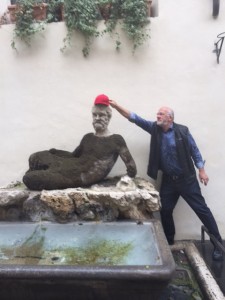 We could cross over any of many bridges and capture a fortress, a statue, a piece of history or see the most dazzling display of contemporary design in stores, on people and in exhibits. What amazed me on this journey is how easy it is to take directions. It's easy to ask for help when you don't know where the next WC is. It is easy to read the guide book every night when you are not quite sure what to do or see next. A lot of early recovery is about basics. Learning to speak Italian will take me a long time, but with help I can learn right from sinister. If I have a good teacher I will not be alone.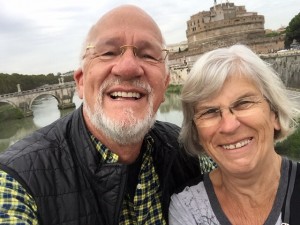 We could crash in a living room that was clearly scaled for more than two people. In fact we were diminished by the size of the room. It was like more people should be here. In early recovery at the Last Door life was like that. Vistas of opportunity were available. I learned listening early.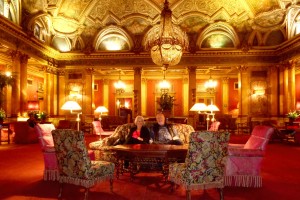 Since my incursion into recovery my encounters with the constabulary have been reduced to photo ops. These guys weren't even friendly about that. Didn't get the Red Hat story. The restoration of a life of virtue, no greed, lust, pride, sloth… get the idea. No more seven deadlies.
Now all this gratitude stuff doesn't go anywhere until you get to share it. The lessons of my childhood thanksgiving were always those of inviting someone to sit at your table. Now you knew I was going to get back to those migrants and the Last Supper. Somehow sharing a meal with a few migrants, a few homeless, a few stateless might make Thanksgiving real. The prayer at the 12 step meeting summarizes it all. I will not understand powers and principalities and big picture issues but I can sure break bread with someone who is hungry. I can change something just for today. The old psalter might have some archaic language but the idea that my thanksgiving be whole hearted may be worth resurrecting with my life.