The juxtaposition of light and dark, cheese with cheese, meat with meat, house with water and of course the silhouettes in the sand lay a foundation for a special perspective. Now these snapshots do not attain nor aspire to photographic art, but they do cumulatively gather a mood. The dancing of light! The contrasts between similar materials with different textures. The side-by-side of organic and edged materials. The Japanese have a special word for this visual coupling, they call it Wabi Sabi. The feast of contrasts is the plate du jour of observation.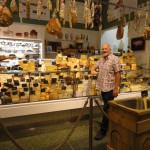 The early morning silhouettes cast in the sand by sunrise on Hammonasset Bay pause for the photo op. No paparazzi, rather an extended practice session for the narcissistic selfie. The elongated shadows dance on the wave ridged sand. There that house on the edge of the rock greyed by weather and darkened by shadows stands as an invitation. The entire cooling case filled with blocks of cheese. The pattern of the cuts and the dark waxes creates a checker board for the game of eating.
The dance of light is made more spectacular when the rules are broken. The New York skyline dances even during a new moon. In the darkness the lights are brighter. We stood on the shores of the Bay of Fundy some nights ago and watched the stars. The holes into the expanse of the heavens a colander over the world. There have been many nights on the road when the memories of the day, the bright moments, the dazzling spectacles, come to the foreground of memory when dusk settles. In the shadows of the day I get to savour the light that laid a path that day. I get to give thanks for all the contrasts in my life.