The white figures on a white background are like a presentation from a wedding planner. This store was designed to make and take money. Now none of this would matter except that this store and so many other tourist attraptions have replaced the rice fields. My friend Dennis wrote an extended note on the value of rice in emerging cultures (http://swallowfield.weebely.com/blog/if-you havent-eaten-rice) The rice field is gone and they have paved over another corner of paradise!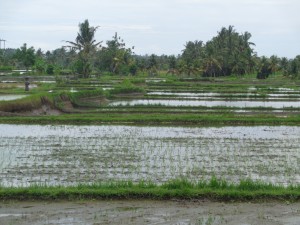 Fields flooded and planted can still be found on this island paradise. There another gravity fed irrigation system. Low energy. In a world of pumps and flashing halogen lights zero energy consumption may sound like a myth. These fields have been irrigated for decades by the creative application of gravity.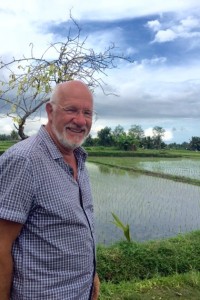 When I roll through the photographs I catch myself looking like I own the rice fields. Margaret says I walk into stores like I own them. The difference is that I might actually understand stores, but I want to learn to understand rice-fields. Stores pop up here and there and are gone, but rice fields… This growing food business is essential for our survival on this planet. My friends at the Last Door (www.LastDoor.org) have committed to growing their own vegetables. A mother-earth throw back. Since my mid-twenties I have worked the soil and planted crops for the fun of it… For the every morning getting up and seeing new growth. The attraction of the rice fields is more about growing than rice. If we get the gardens set at Last Door then we may have saved a few fields from becoming stores!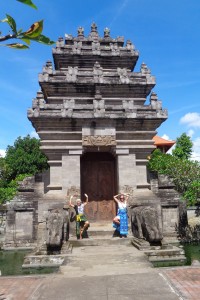 I bet you were wondering how I was going to sneak this Yoga conversation into this greening project. To garden two things are required. First a willingness to do some tedious work. Second the ability to bend down to the ground and separate the plants from the weeds. Some years ago I started doing yoga. At many stops along the way Gail and Margaret will pause to pose for a photo op just to mimic my yoga routines. The good news is that I can still reach the ground, the better news is that Margaret is more patient than I am.
The column of climbing over and on each other figures says it all. We can learn to climb or we can learn to grow. The kids story about Jack and the bean stalk had it right. Growing stuff is so much more fun because you might be persuaded to keep a rice field rather than a monument.