The shared butternut and squash Gorgonzola appetizer was garnished with nuts and berries and grapes and nut butters.  Visually an unexpected guest at our Thanksgiving table. Now in France  Thanksgiving Canadian style is no big deal — really it is nothing.  But as the grace for a year of blessings, a year of learning to be patient, a year of sublimating my desires, a year of growing… My memories flashed to the Keystone gardens and all the squash family plants we were graced to plant.  I as flavoured with understanding.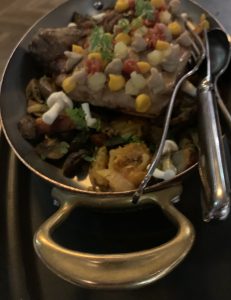 Then in a tin plated copper roasting pan, he 12 hour duck shank emerged from the kitchen.  The vegetables and the shank had spent a half a day together and the subtle tart flavours emerged new from each morsel, each sliver of lamb, each drop of pan juice.  Lamb may not masquerade as turkey, but in the memory of my mind it was better.  The over scaled brass handle focused on how easy it was to share this dish.  How easy it was to share food with the hungry.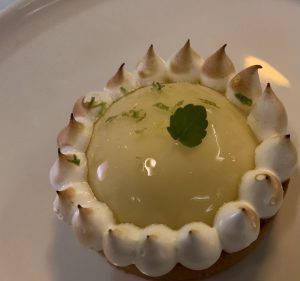 The regal crown of meringue, torched golden for the coronation of a too-heavy-meal circled the super-saturated lemon tart. A palate cleanser for desert.  This year has been like that.  A lot of rich memories focused by the reality of living.  The good news is again that the juxtaposition of flavours and attitudes grows the grace of living.